I'm the person who loves change. I know, I know, change can make some people go crazy and have anxiety attacks. I, however, am the opposite. Maybe blame my parents for moving us cross world twice growing up, who knows, but I love it. It excites me…new people, new designs, new memories!
We have lived in our current building since we moved out of my tiny studio once we got married. That is a long time…almost 8 years to be exact. That actually ties for second longest place I have ever lived. Problem is, Chicago is EXPENSIVE and we had a huge space, so we stayed. But, my friend, we have now owned our own business long enough that the crazy banks are finally willing to approve us for a new casita. So web world… meet casita. It is officially our first house. We have lived in a a condo building and could not be more excited to own this little spot of land in the greatest city in the world…sorry biased! We love the front, which we will eventually paint, but we really fell in love with the backyard for our little ones.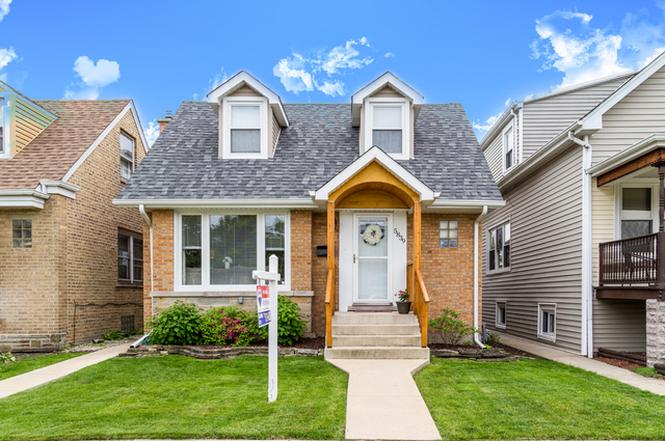 We were weighing whether to buy a house that needed a lot of work and to fully gut it and live there while doing it. However, after thinking about having to do it while working full time and having 2 kids, we decided against it. We, instead, bought a house that is finished and has generic finishes that we are going to slowly make into our style. We are starting with our living room. It is the first room you see when you walk in.
Our last house had a lot of color and we loved it in the vintage feel of our home. However, we are going a little more East Coast Casual in this house. I love blue hues and texture, so it will be warm and inviting and clean. I am going for a marriage of the west coast casual and East Coast color. Here is the board for the living room. We are going to do one room at a time but since we sold all of our furniture (eek), we will need to move pretty quick..good thing I own a furniture company!
1. Betsy Occasional Chair  2. The Joseph Sofa  3. Three Arm Ceiling Light   4. Jute Rug  5. Teal Rug  6. Leather Ottoman  7. Floor Lamp  8. Acacia Wood Mirror  9. Metal Side Table  10. Olive Tree  11. Framed Photos 12. Burl Wood Credenza 13. Rod for drapes 14. Drapes
The post Meet Casita! appeared first on MegMade.