My Top 6 Living Room Art Trends – Love Letters
As you all know, we moved in just over a month ago. Big furniture is mostly in and most of the little things. The initial excitement of new things in the house quickly waned as my 5-year-old spilled cranberry juice all over the rug the day it arrived, my dog got diarrhea all over our new couch and my 2-year-old smeared play dough well over just about everything. So is life and we have chosen to not make our house a museum, but a place for our kids to feel at home, with somewhat good design. However, if you are ever curious, we do know all of the best products for getting just about anything out of anything. Good thing they are cute (sigh!)
The room I am struggling with the most is our living room wall. The wall above the couch. Our living room is not enormous by any standards, but our couch is. So the art has to be thought out and help to make the room look larger and the ceilings taller. We have already chosen a round vintaged mirror for above the credenza, so the one oversized piece art is out. Bummer because I am a minimalist and truly can get behind just about anything oversized on a wall. So that leaves us with a couple of different options. I have turned to trusty pinterest to nail down the top choices. Hope this helps if you guys are in the same sitch.
1. One over-sized piece of art – (the one that wont work for me…sad face)
I am in love with this sketch painting featured on My Domaine. Once again, I am a huge fan of big art, but I need some interest in our room and 2 walls with just one large painting is too boring for our living room and wont look right. But hand clap for this awesome pairing.
2. Select number of matching frames with over-sized mattes
I have to say that I am big fan of the over-sized mattes. I love them down a hallway, on a wall, up a staircase, above a bed…I feel like Dr. Seuss talking about the hat. But truly, can't go wrong with an over-sized matte. This wall surrounding Driven By Decor's TV is so beautiful and classic. I also love the choice of sticking to black and whites and water-color. And, can we give her a shout out for her awesome choice in light fixtures. The TV might be the last thing I want to watch in this room as there is so much good decor going on.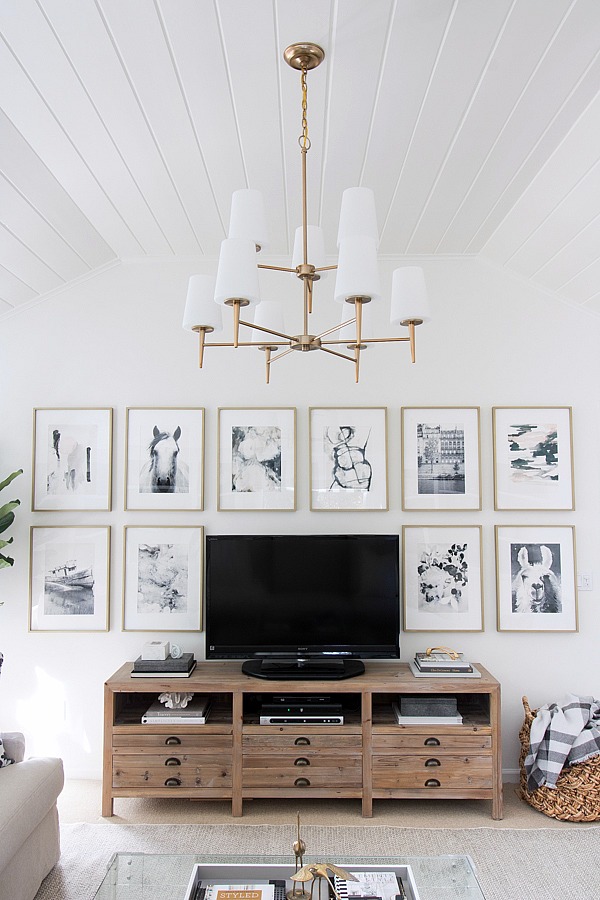 3. The Ledge
In my opinion, the ledge is genius because it is easy to change out. Typically the art is leaning and it is easy to change out with the seasons. For someone who is constantly falling in love with new pieces of art, this makes sense. I love how Katie from Her Therapy is Home kept this ledge simple, minimalist and oh so pretty.
4. Gallery Wall
The way that Avenue Lifestyle styled this gallery wall is perfection. I like the mixed frame sizes, the similar, yet different color palette and how she used a little bit of humor too in the art. This choice takes a little more thought and I suggest buying the frames first and arranging the and then figuring out what to put in them, that way you can change things out in years to come.
5. Opposites Attract
This is the style I was leaning toward for a long time. I love how they look somewhat symmetrical yet different at the same time. I love how Brady Tolbert paired this similar yet different black and white's above the couch. He is truly genius and I love everything he touches.
6. The non-art, but art wall
Taking a vintage scarf and framing it for the wall is such a great idea. Apartment Therapy's feature on scarf art is so good. I think taking 2 vintage Hermes scarves could be super fun. Plus, there are so many good tutorials on how to frame it like this!
So I really need to nail down my decision this week, but showing you lovely peeps the options I think has helped this jumbled brain come to some conclusions. Conclusion coming soon!
*featured image is from Fancy Lacy
The post My Top 6 Living Room Art Trends – Love Letters appeared first on MegMade.